First impressions are everything. That's why curb appeal is so important in the quest to sell your home. But the process doesn't have to be lengthy or expensive to be effective. Here are 10, budget-friendly ways to enhance your home's curb appeal and draw in perspective buyers.
1. Paint the Front Door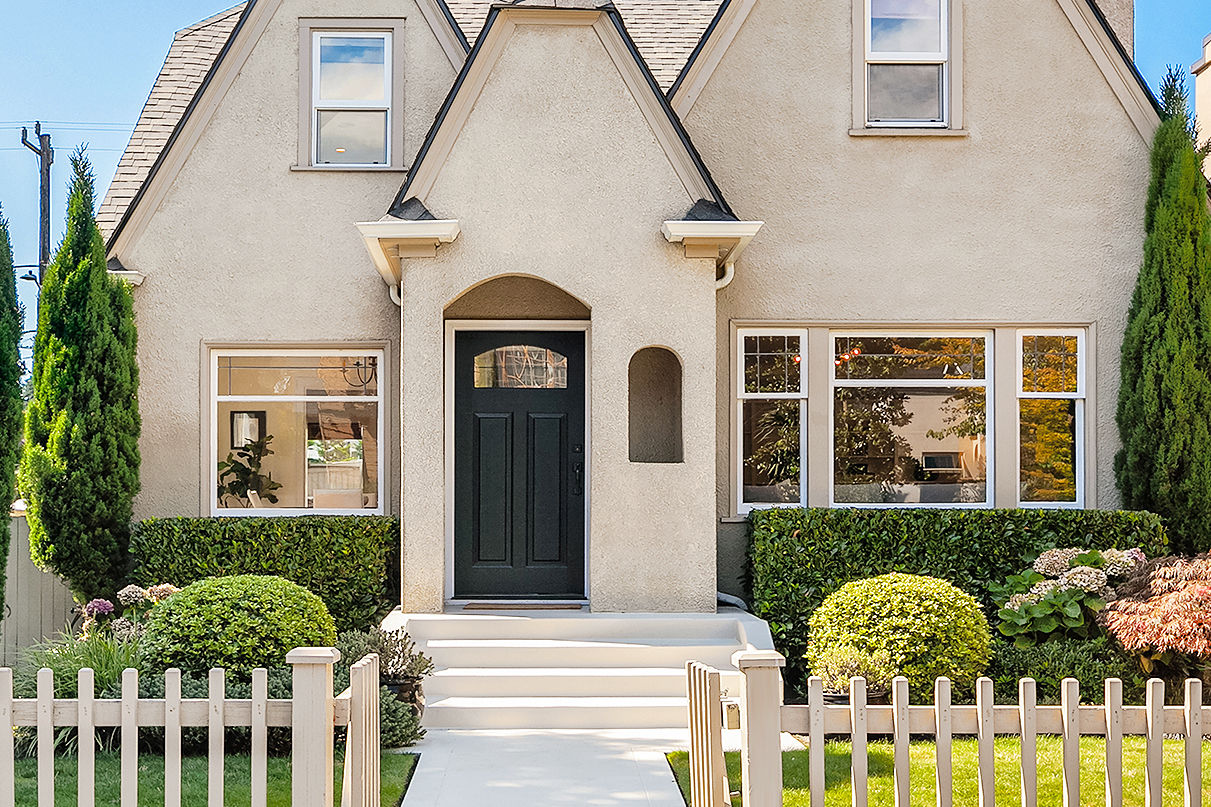 PRICE ESTIMATE: $75
Giving your front door a fresh coat of paint can draw in buyers and help your home stand out from the crowd. Pick a color that compliments the exterior of your home—either a neutral or a crowd-pleasing bright color—and, in one day, you could give your entire entrance a color face lift. If you are having a hard time deciding on a shade, black is always a safe, sleek option.
Many paint brands sell single quarts (as well as other sizes) of semi-gloss exterior paint at very affordable prices. You will also need primer, brushes or rollers and sandpaper.
Front Door Paint from Home Depot
2. Pressure Wash Your Walkway and Entry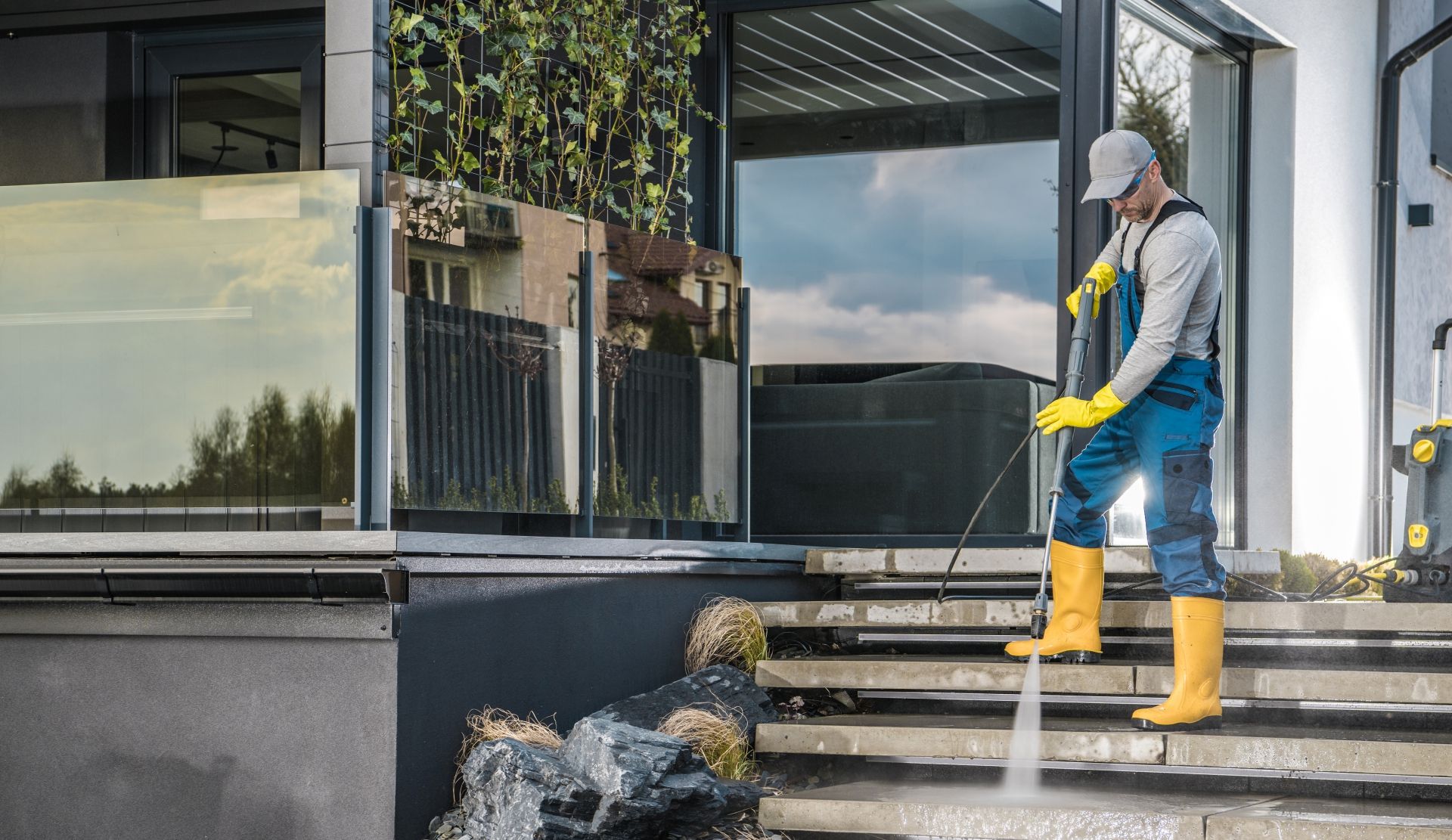 PRICE ESTIMATE: $0.40 per square foot
Grimy sidewalks and driveways can make an otherwise beautiful house look dingy. Invest in a trusted pressure washing company to clean up your outdoor concrete surfaces. Or, if you are a DIY-er, rent a pressure washer from your local home improvement store for less than $100 per day.
3. Add Window Boxes
PRICE ESTIMATE: $15-25 per basic window box
Adding window boxes to your front windows with colorful flowers or shrubbery can make your house's façade look much more inviting. There are many window boxes you can purchase online through sites like Wayfair, Amazon and Home Depot.
Window Boxes from Amazon
4. Install Solar-Powered Pathway Lights
PRICE ESTIMATE: $4-50 per light
There's nothing more intimidating than a dark and mysterious front entrance. That is why it is important to install outdoor path lights to lead visitors right to your front door, especially on a darker street or if you are listing during one of the darker months. There are a variety of pathway lights online that are extremely easy to install and will transform your dark entrance into an inviting trail to your beautiful home.
Solar-Powered Pathway Lights from Target
5. Plant Sweet Smelling Flower Bushes
PRICE ESTIMATE: $15-35 per bush
Real estate professionals have long relied on sweet smells to sell a home, for example…popular tactic being to bake cookies prior to an open house. While cookies require a house walkthrough, planting fragrant flowers can entice any casual passerby. Some popular landscaping flower bushes include gardenias, hydrangeas and azaleas.
Flower Bushes from Walmart
6. Install a New Mailbox
PRICE ESTIMATE: $30-150
Just like a unique front door can draw a buyer's attention, so can a unique mailbox. Whether it's wall-mounted box next to the door or a standing mailbox at the end of the driveway, this universal feature is another great area for creativity.
If you'd rather not buy an entirely new mailbox, you can also give your existing mailbox a facelift with a coat of colorful spray paint or a new wooden stand.
Mailbox from Wayfair
7. Cut back overgrown plants or shrubs
PRICE ESTIMATE: $10
A well-maintained front yard can do wonders for welcoming in more prospective homebuyers. The way you take care of your yard, can indicate to buyers how you have taken care of both the inside and outside of your home.
If you have any overgrown bushes or plants, grab a pair of bypass pruners and take off any dead blooms or overly long stems. Within minutes, the outside of your home will look much more presentable and inviting.
Remember: this is most likely the first time buyers will see your property, so it's important to not overwhelm them with visual clutter. You may even need to prune the shrubs or flowers more than you think.
Gardening Sheers on Amazon
8. Create an outside seating area
PRICE ESTIMATE: Free-$250
Whether you have a covered front porch or a small stone or gravel patio, it's possible to add a cute sitting area to your front yard. Doing so will add value to your property, by creating an entirely new living space for perspective buyers to consider. Depending on your budget, you can either take an old chair from storage and add it to your front porch or purchase an outdoor furniture set online.
Outdoor Bench from Wayfair
9. Clean your windows, gutters and visible roofing
PRICE ESTIMATE: Gutters - $0.08 per linear foot, Roof - $300-700, Windows - $10-15 per window
Like trimming your overgrown shrubs and pressuring washing your walkway, cleaning your windows, gutters and visible roof areas is so important when thinking trying to sell your home. You want your home to look clean and move-in ready and doing these chores will help make that possible.
While you may be able to wash front windows yourself, it is best to hire professionals to clean gutters and roofs.
10. Hang a Bird Feeder
PRICE ESTIMATE: $20
Like other functional, outdoor decor, installing a small bird feeder in the front yard of your house, will add visual interest to your property just by being there and if it does its job properly, will attract adorable wildlife to your lush front garden.
Birdfeeder from Amazon
Good curb appeal can be the difference between a quick sale and a house sitting on the market for weeks. And with a little investment and creativity, you can transform the front of your home into an enviable space a prospective buyer can get excited about.